Horny Late In The Night
Today we have another exciting, new material that you should not miss. Once more we bring you this hot, naughty blonde, Kandi Cox offering yet another spectacular performance. She knows how to get you all aroused, so take a look and how's moving her sexy body in front of the camera. So sit back and watch Kandi fingering her pussy!
Right from the beginning you will notice that you have stumble onto another one of Kandi's hot and crazy performances. She will drive you all so wild with her sexy figure and wonderful curves. Watch her wearing a black pair of hose and some nasty girdle and with a naughty look on her face, getting closer to her big, empty bed. She will start moving her hands all over her body, caressing her round, sexy tits and gently going down for her pussy. She will lift her legs up in the air, taking them apart, and showing you her delicious asshole and juicy cunt. She will start rubbing and spreading her pussy out, and showing you her pink, nasty treasure. Take a closer look at how she will start finger fucking her twat, stuffing her fingers deep inside, twisting them around, and exploring each and every inch of it, pounding to orgasm. That you all for joining us today, we hope you all had a great time watching Kandi fingering herself and we'll see you all next week. Until then, stay tuned!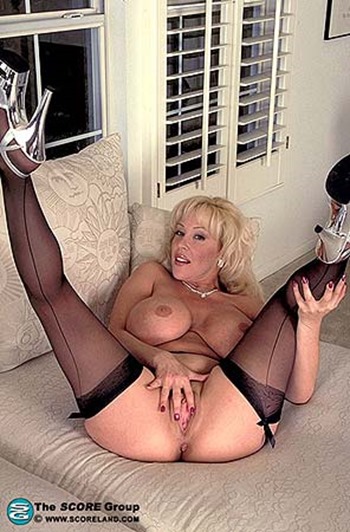 Watch here sexy Kandi finger-fucking her pussy!